Welcome to Better Denture's
Here you will find our select range of high quality after care products. All products can be bought online or at our clinic at 6 Brynley Street in Hornby. (All products can be posted for a small postage fee). If you have a specific request, please feel free to contact us directly.
For enquiries, enter your details and the product/s you're interested in, in the form below.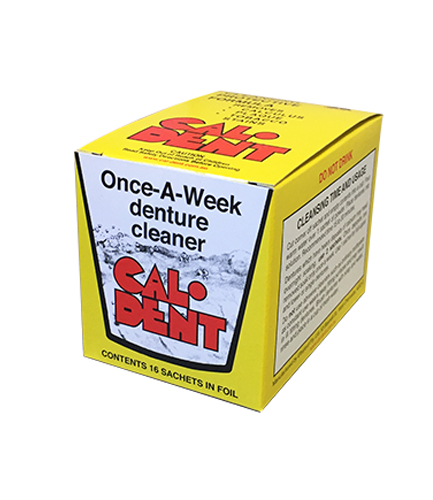 $20 - In-store pick up) $25 - Online purchase + post cost extra) $60 - 1 year pick up special: Buy 2 get 1 half price (3 boxes)
This is a once a week cleaner recommended for soaking 15-30 minutes.
Sold as a 4 month supply.
Pick up on site and save. ($20 pick up special)
Caldent is a very effective denture cleaner. It is none abrasive, but is extremely good at removing stains, calculus and plaque from dentures, much better than the supermarket bought brands!
1 year supply – $60 when bought online (Postage & handling additional)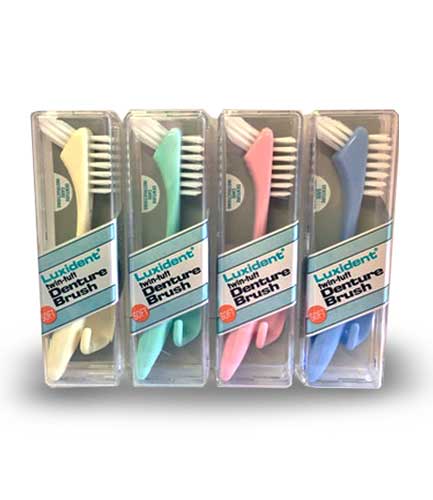 Soft Bristle Denture Brush. Available in assorted colours.
Specifically designed handle can easily be used by those suffering from arthritis. Comfortable grip ensures correct pressure is used when cleaning.
This Denture Brush has a large handle which makes it easy to hold, especially for people who have limited strength in their hands. It also has bristles on both sides of the head, with one side having longer bristles which are made for effectively cleaning the fitting surface of your dentures and getting into those hard to reach places.
It also comes with a handy hook with an adhesive sticker on the back for attaching to the bathroom wall.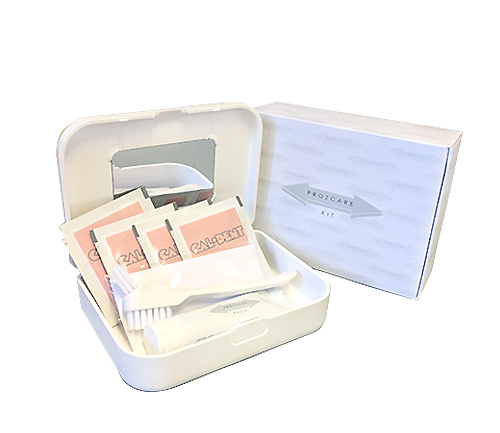 The 'essentials' denture after care pack from Better Denture.
Pack includes a four month supply denture cleaner, denture brush, case with mirror and Prozcare denture paste. A complete all-in-one denture/dental appliance maintenance, storage and care pack.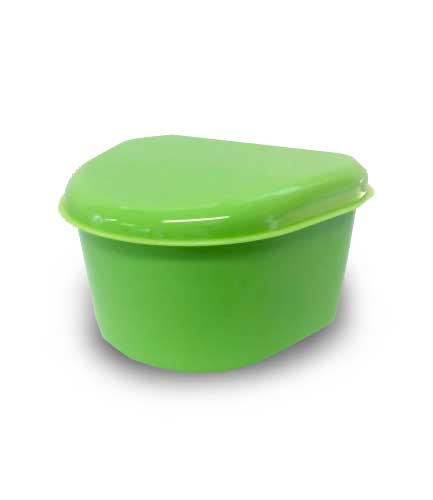 Available in assorted colours. Sealed lid avoids spills if knocked.
Ideal for soaking dentures overnight.
Denture Bath's are great for soaking your dentures in cleaning solution, and keeping them safe when you're not wearing them.
Online special – Every denture bath includes a sample of our recommended denture cleaner – Caldent.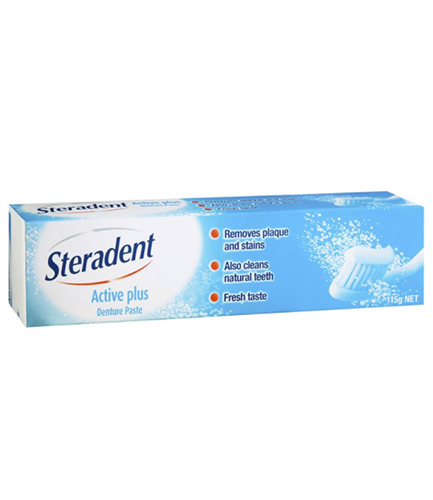 Non abrasive denture paste, peppermint flavour, designed to help with cleaning dentures after soaking.
Steradent denture paste removes stains and plaque build up on full and partial dentures.
Also cleans natural teeth and leaves a fresh taste.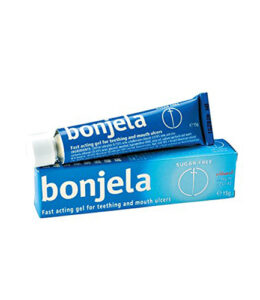 This is a pleasant tasting, soothing gel providing fast-acting relief from pain and discomfort.
Ulcer Gel, is often an effective aid when adjusting to new dentures or when receiving dentures for the first time.
Answers to frequently asked questions
We aim to make your visit as comfortable and convenient as possible. View our top frequently asked questions below or get in touch with us
At Better Denture it is our aim to make your experience a positive and stress free one.
All New Dentures include our AfterCare Package - 6 Month Follow up adjustments included, 12 Month Denture Warranty. Following these periods additional follow up will incur additional cost.
There will be no charge for denture repairs to new dentures in the first year. Subject to fair use and nature of repair. Please be aware this does not include repairs to New Immediate Dentures, Additions, Repaired dentures or Relines. (See 3.)
All New Immediate Dentures, Additions and Relines do not carry our repair guarantee. This is due to the changes to the gums during the healing process, which may indirectly create undue stress to the denture often resulting in breakage. This is normal, however, if you have any concerns please feel free to ask our friendly staff.
Repairs to broken dentures do not carry any guarantee. If you find your denture has had multiple breaks/repairs we are happy to book you a free consultation to investigate and discuss further options.
All New Dentures require a 50% deposit at the start of treatment with the balance to be paid at or before the fitting appointment, if you have any concerns regarding payment please talk to our friendly staff.
Your aftercare is important to us. Please do not hesitate to contact us to make an appointment if you have any concerns or for any adjustments which you may require.
We are here to create a Better Denture experience.